2022 New Volvo XC60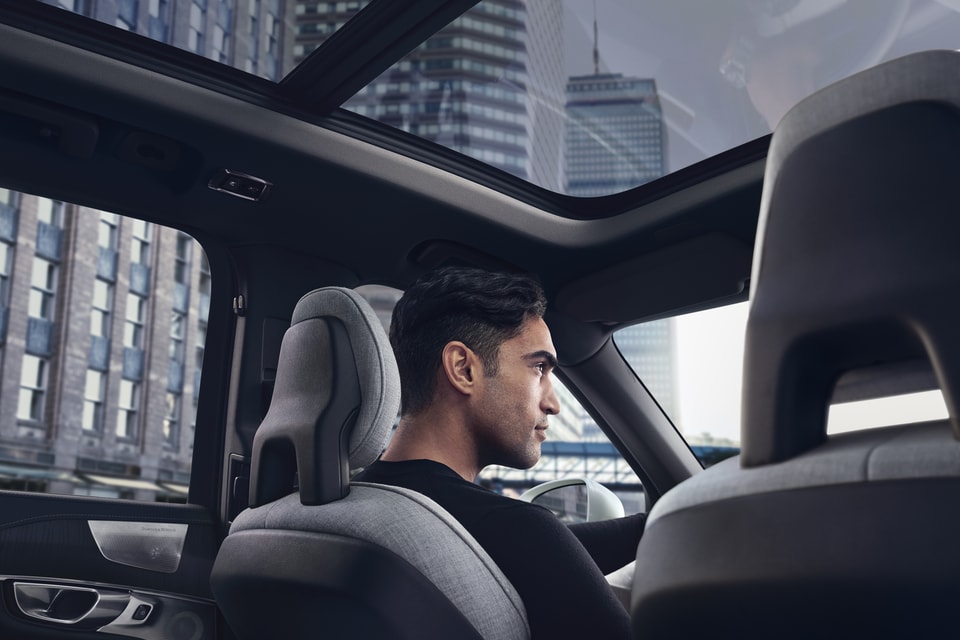 Explore the New 2022 Volvo XC60 at Volvo Cars of Perrysburg
Work Smarter with Volvo's New Intelligent Midsize SUV
The new 2022 Volvo XC60 is renowned for its intelligence and dynamic handling. A luxury-inspired midsize SUV boasting refreshed design details and Google built-in, the new 2022 Volvo XC60 represents the future of intuitive driving. Praised for its noteworthy design and streamlined capability, the indulgent Volvo XC60 features an adaptable chassis and the world's first advanced air quality system that prevents up to 95% of harmful particles from entering the cabin.
Seemingly smarter than any other luxury SUV on the roads in Perrysburg, the new 2022 Volvo XC60 basks in its ability to keep up with the times. Standard equipped with an array of high-tech features - including a 360-degree multi-angle camera - the new XC60 is poised to help enhance your positioning with a sharp birds-eye-view of your surroundings. For sale now at Volvo Cars of Perrysburg, we invite you to indulge and experience the new 2022 Volvo XC60 at our luxury facility today! 
Read more about the Volvo XC60 or start shopping our selection today!
Stress-Free Car-Shopping
Escape Toledo with the New 2022 Volvo XC60
If you're searching for an escape from the monotony of city life in Toledo, the all-new 2022 Volvo XC60 is the ultimate contortionist that can flex to fit a variety of rugged lifestyles. Offering best-in-class navigation with Google Maps and fully integrated hands-free voice control, you'll be able to break away from the holiday crowds without getting lost. Get more done on the road by connecting your smartphone device and taking control of your favorite apps, contacts, and more with just one click!
As you fine-tune your driving preferences behind the wheel in Monroe, the new 2022 Volvo XC60 lets you keep your hands safely on the steering wheel while you use your voice to make micro-adjustments. To get started, simply say the words "Hey Google" to activate Volvo's intelligent assistant to help you navigate and keep in touch with friends and family. A testament to the convenience of advanced hands-free control, the new 2022 Volvo XC60 is designed to help you enjoy life while staying safe and free of any distractions.
Volvo Commitment to Safety
Safety, Technology & Towing
When it comes to offering safety, it's in our DNA to help you ease the stress away while bustling through the busy rush-hour city traffic in Perrysburg. The new 2022 Volvo XC60 is praised for helping you avoid collisions, cross oncoming traffic, and reverse with confidence in crowded supermarket parking lots. No matter where the roads take you, Volvo's state-of-the-art safety suite is always working to ensure you and your passengers have no trouble reaching your destination safely.
Refined Technology
At the crux of garnering sufficient towing power and implementing the latest technology, the new 2022 Volvo XC60 is confident in its ability to do it all. By harnessing recovered energy and storing it in a 48V battery, you'll have peace of mind and the power to help propel your towing endeavors to new heights in Monroe. Sporting a dynamically refined drive and the latest mild-hybrid performance technology, the new XC60 allows you to enjoy smooth take-offs and quick-witted acceleration when you need it most.
Fuel Price
If you're in the market for an eco-friendly SUV that can help you save money on fuel in Toledo, you owe it to yourself to check out the new hybrid-infused 2022 Volvo XC60. Sporting three unique model configurations that each offer varying 'cost to own' fuel prices, you'll find it easy to narrow down your search for the perfect hybrid SUV. Featuring one of three exclusive styles for you to choose from, we invite you to explore all the XC60 models for sale in Perrysburg. 
Custom Order & Reserve the New Volvo XC60 in Perrysburg
At Volvo Cars of Perrysburg, we're committed to customer satisfaction and strive to go above and beyond for all our valued clients. To help you save time and skip waiting in line at our facility, Volvo Cars of Perrysburg is proud to help you custom order and reserve the new 2022 Volvo XC60 in Perrysburg. Simply click to explore our new inventory to pre-order the new Volvo XC60, making sure to customize your shopping experience by selecting your favorite trim level, body-color, and powertrain option.
Available Volvo XC60 Trims
There are three trims available in the 2022 Volvo XC60:
Volvo Momentum
Starting at $43,745
Featuring 18-inch five-spoke silver alloy wheels, Iron Ore aluminum décor, and a high-performance audio system.
Volvo Inscription
Starting at $51,245 
Equipped with a leather-wrapped steering wheel, Harmon Kardon Premium Sound system, and ventilated Nappa leather upholstery
Volvo R-Design
Starting at $49,895
Featuring glossy black mirror covers, Metal Mash aluminum décor, and an exclusive R-Design grille with high-gloss black inserts
Why Work with Volvo Cars of Perrysburg?
The experts at Volvo Cars of Perrysburg are excited to help you kickstart your auto-financing journey from the comfort of your home. Dedicated to delivering the pinnacle of customer service and financing support, we invite you to work with us in Perrysburg to experience the future of car-buying. Backed by our professional and friendly sales team, we can assure you that you won't be disappointed by choosing to work with Volvo Cars of Perrysburg.
Our dealership also accepts trades and will buy your old vehicle from you if you're looking to upgrade to something new. Allow us to help appraise your vehicle and ensure you get paid maximum value for what it's truly worth. If you're in the market to sell, our team is happy to help list your vehicle and will do all the leg work for you while you sit back and relax.
Schedule a Test Drive
For more information about our new inventory and to schedule a test drive of the new 2022 Volvo XC60, please call or contact us online at Volvo Cars of Perrysburg to speak with a representative today! 
Shop Our Selection Below
How can we help?
* Indicates a required field